Our Veterinarians
The Friendship Hospital for Animals team of skilled veterinarians welcomes you and your pet to our practice! Proudly serving the Fort Collins, CO area since 1997! At Friendship, we pride ourselves on providing quality, compassionate care to your cherished pet.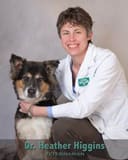 Dr. Heather Higgins
Dr. Higgins was born and raised in Aurora, Colorado. She attended Colorado State University, where she earned her bachelor's degree in Biologic Sciences in 2000, and her Doctor of Veterinary Medicine degree in 2006. After graduation, Dr. Higgins worked for 1 year at a small animal practice in Firestone, CO before moving to Arizona for a broader range of experiences. 5 years in the desert made it difficult to leave a wonderful group of patients and friends, but the pull of the mountains and family brought her back home to Colorado. Heather's professional interests include soft tissue surgery, dentistry, internal medicine, and ultrasonography. In her free time, Dr. Higgins enjoys running, hiking, cooking, camping, Bronco games, and reading. She lives with 1 spoiled cat, Loki as well as her hiking partner- a Border Collie mix named Marley.
Dr. Alana Lisano
Dr. Lisano grew up in Masonville, just outside of Fort Collins, and is thrilled to be back home serving her local community! She graduated from Colorado State University in 2011 with a Doctor of Veterinary Medicine degree, and spent her first year of practice on the western slope of Colorado. After this, her and her husband moved to New Hampshire and explored the culture of the northeast. However, Colorado called them back home, and they are happy to be settled here. Dr. Lisano is a strong proponent for keeping family pets healthy and happy in order to support and encourage the benefits of the human-animal bond. She grew up volunteering with disabled adults, and loves to see the therapy that pets can provide. She always strives to provide compassionate, comprehensive care to each of her patients and their people. As a veterinarian, Dr. Lisano is passionate about geriatric pet care, oncology, and preventative care for cats and dogs alike. Outside of work, she loves spending time with her husband and son, as well as running and baking. Her family is wild about the outdoors and can often be found hiking or snowshoeing when they are not working on their home remodel projects. They live with their two fuzzy Siberian cats, Eva and Chester, and their box tortoise, Samson.
Dr. Joyce Clark
Dr. Joyce Clark feels the best part of the job, aside from puppy and kitten kisses, is the people! Working closely with clients to help their furry family receive optimum care throughout their lives is her goal. Her veterinary passions include wellness/preventive care to catch and minimize concerns early, behavior and socialization for the youngsters, dentistry, geriatric care, and pain management, especially with acupuncture and laser therapy. Dr. Clark is a Colorado native and obtained her DVM from Colorado State University in 2004. In 2013, she became certified in Veterinary Medical Acupuncture. Time away from the hospital is spent camping, gardening, hiking, knitting, trying local breweries, and occasionally traveling and searching for the perfect beach. She shares her life with her partner, Brad, and a handsome yellow Labrador named Dallas, and a very patient black cat named Daisy.
Dr. Julie Smith
Born and raised in Denver, Dr. Smith is happily settled in Fort Collins where she shares her home currently with two house rabbits and one dog. In addition, many beloved cats and dogs and rabbits have joined her family through the years. At her home-away-from-home at Friendship, her tiny and gentle four pound Chihuahua, Claire, sometimes spends the day with her to impart a welcome calm and life balance (and some very entertaining silliness, too.) Before becoming a veterinarian (Colorado State University), Dr. Smith put her Bachelor's and Master's degrees to work for 10 years as a registered dietitian. Her combined interests in nutrition, medicine and all creatures came together for this, her "best-thing-that-ever-happened-to-me" career choice in veterinary medicine. A serendipitous experience with companion rabbits created her expertise in their health and medical care. She is a founding member of the Colorado House Rabbit Society, and the volunteer veterinarian for the Northern Colorado House Rabbit Society and Sanctuary. Now in her second decade at Friendship, Dr. Smith relishes her work as well as her enduring relationships with her clients, their beloved pets, and the whole Friendship family which includes a longstanding and long distance friendship with our founder, Dr. Cat Cross! Dr. Smith is looking forward to many more fulfilling years working within the Fort Collins furry-loving community!